Op 5 september kregen wij een mailtje van Nandana. Aan zijn zoon hebben wij de laptop gedoneerd.
"Hello, how are you?hope keeping well.again thanks for
the laptop and its very useful to us. what about the weather in your
country? here we getting huge rains in sri lanka. ishara is doing
studies well and later he wants urn lots of money for that…. thanks for your helps and may god bless
you!
Nandana and family"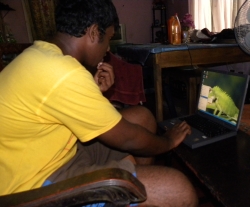 Ishara achter zijn nieuwe nieuwe laptop.
Op 7 september kregen wij een mailtje van Chanaka
"hi dear how are you. frast thanks for your help me.today is raeing . i whis your all succse your and take cera…………   CHANAKA"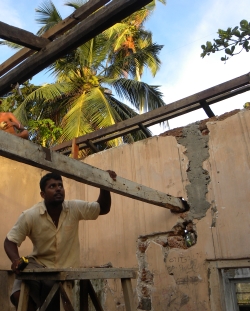 Chanaka, aan het werk met zijn dak