Vorige week kregen wij een email bericht van Asanka. Wij hadden hem o.a. onderstaande foto's toegestuurd.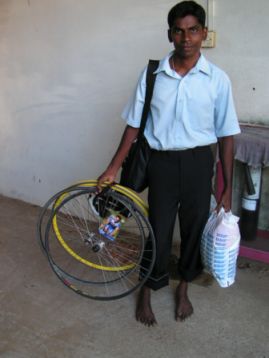 Asanka met zijn nieuwe wielen en kleding, gedoneerd door Servais Knaven
Dear Ronald & Gre,
How are you getting on ? I also you are o.k. and I am also well. I received that photo you send. Thank you very much for it. Earlier I send a e-mail for you, But that e-mail address wrong , so I think you didn't get it. Now I found the correct e-mail number your from Githanga. Please send me your post address with your reply
You gave the gift items that items is very important us and we thanks again for you very much. You gave the goods , who are waiting for you.
Thanks very much for you and your wife. Also I wish you success life for both you and god bless you .
We are hope both you again in Sri Lanka.
Yours Friend,
Ashanka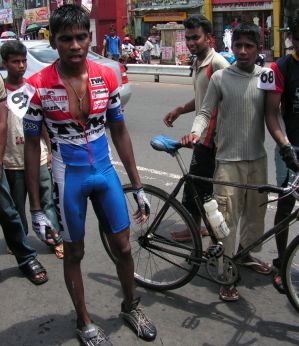 Asanka, uigeput na de race en Asanka in een nieuw oranje tijdritpak