Fotowedstrijd 'Samenwerken' Rabobank Meppel-Steenwijkerland
Deze foto won de 1ste prijs en zo 500 euro voor Nika Lanka.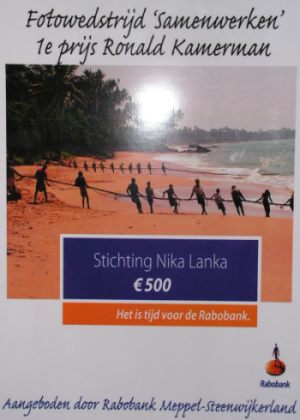 De fotowedstrijd
Speciaal voor de leden organiseert Rabobank Meppel-Steenwijkerland een fotowedstrijd. Maak een foto die past bij het thema 'Samenwerken' en maak kans op een mooie geldprijs waarmee u een vereniging, stichting of goed doel (naar keuze) kunt blij maken . De deelnemer maakt vooraf bekend aan welk goed doel hij of zij de cheque wil doneren. De eerste prijs is een cheque ter waarde van € 500, de tweede en derde prijs zijn cheque's ter waarde van € 250.
Insturen foto
U kunt uw foto (maximaal drie) tot en met 15 november 2008 naar ons mailen. De foto mag zowel fullcolour, sepia of zwart-wit zijn. Geef in uw e-mail een korte beschrijving van maximaal 25 woorden waarin u de betekenis van uw foto uitlegt. Een deskundige jury, bestaande uit een afvaardiging van de Rabobank en een vakfotograaf, zal de binnengekomen inzendingen beoordelen.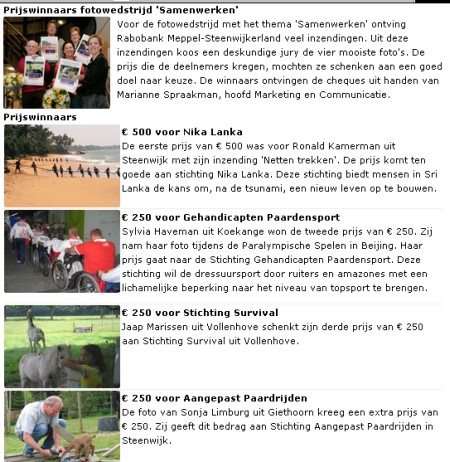 De Prijswinnaars.
Met de foto 'nettentrekken' heb ik de eerste prijs gewonnen en uiteraard had ik van tevoren als goed doel Nika Lanka opgegeven!
Ronald