Visnet
2 dagen geleden kregen van de de visser van het 'trekvisnet' een sms.
"Hello thank you for helping for my net. Finishing is a now only one week. thank you so much. we had a bad rainy time its over now and back to sun. Bye".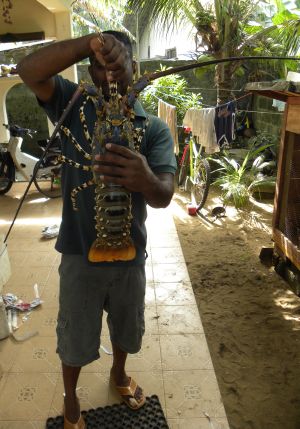 Een foto van de visser, afgelopen augustus, met een kreeft van meer dan 2 kilo!!
Onderstaand bericht stond in de nieuwsbrief van augustus 2010Nika Lanka heeft een visser een visnet gedoneerd wat van november t/m begin maart gebruikt kan worden aan de westkust van Sri Lanka. Met dit net, met zeer kleine mazen, wordt er op garnalen gevangen. Het net wordt met een boot in zee gebracht en met touwen van zo'n 800meter, aan weerskanten, wordt het net het strand op getrokken.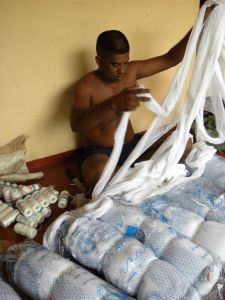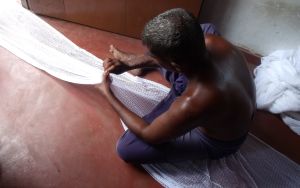 De visser met zijn meters lange net en de nettenboeter en vanaf november wordt er weer gevist zoals te zien op een de foto's in de 'Nika Lankabovenste balk'.