Tijdens onze bezoeken aan Sri Lanka hebben wij genoten van de heerlijke Sri Lankaanse keuken.
Van onze vriend Fahim hebben wij geleerd hoe we Sri Lankaans moeten koken.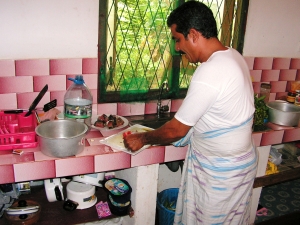 Fahim, de fantastische Sri Lankaanse kok
De recepten, die ooit op de website stonden, die zijn gebundeld in een Sri Lankaans kookboekje.
Het receptenboek is nog steeds te koop en te bestellen!!!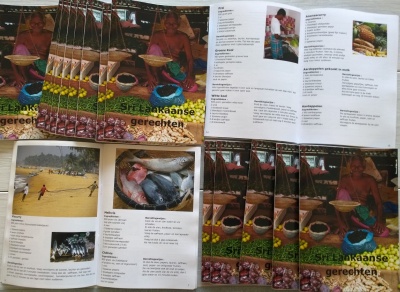 Meer dan 30 heerlijke Sri Lankaanse recepten gebundeld in een boekje, aangevuld met foto's van Sri Lanka.
Maak 10 euro over op NL47RABO0112876072 en mail uw adresgegevens naar info@nikalanka.org dan sturen wij het receptenboekje naar u op.
Uiteraard komt de gehele opbrengst ten goede aan Nika Lanka.
De Sri Lankaanse keuken
Rijst het belangrijkste onderdeel van de maaltijd. Hierbij worden minimaal 7 bijgerechten geserveerd.
Deze gerechten bestaan uit vlees, kip, vis, garnalen, ei en allerlei soorten groenten, zoals boontjes, paprika, kool, pompoen, jackfruit en dahl (linzen)
Curry, afgeleid van he Tamil woord kari, betekent een mengsel van kruiden en specerijen of een mengsel van verscheidende gekruide soorten vlees, vis of groenten in een vaak dikkere saus.
Sommige curries zijn heet en andere zijn milder van smaak. Curries worden op smaak gebracht met een groot aantal ingredienten : chilipepertjes, koriander, komijn, kardemon, kurkuma, mosterdzaad, nootmuskaat, kaneel, uien, venkelzaad, peper, gember, knoflook, komijn, kokos (geraspte kokos & kokosmelk)
Bijna elk curry gerecht bevat kardemom. De Sri Lankanen gebruiken juist deze specerijen waarin knoflook zit, omdat kardemon de kwalijke lucht van knoflook wegneemt. In Sri Lanka wordt veel knoflook in de maaltijden gebruikt, hetgeen men echter nauwelijks ruikt.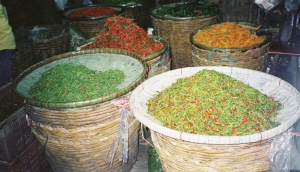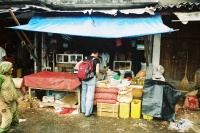 De verse pepertjes Al deze kruiden en specerijen zijn te koop op de markt.
Fruit
Sri Lanka is een waar paradijs voor mensen die houden van fruit.
Er zijn o.a. verse meloenen, sinaasappels, limoentjes, citroenen, grapefruits, mangos, avocado, kokosnoot, papayas, jackfruit, doerians, lychees en vele verschillende soorten bananen.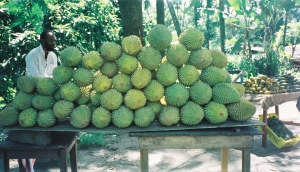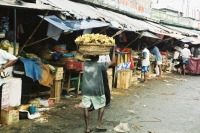 Doerians & Bananen