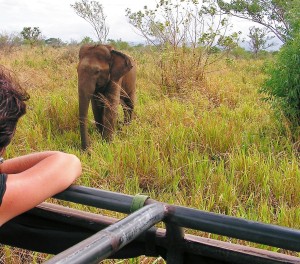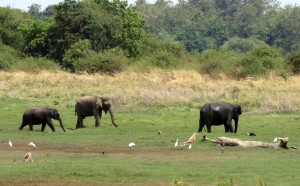 Voor het eerst tonen onderzoekers aan dat Aziatische olifanten in Sri Lanka – net als de aan hen verwante Afrikaanse olifanten – doodsbang zijn voor honingbijen. Dat schrijven onderzoekers in het blad Current Biology Met name boeren op Sri Lanka kunnen er hun voordeel mee doen.
Al jarenlang wordt er in Afrika onderzoek gedaan naar de reactie van Afrikaanse olifanten op geluiden van verschillende organismen. En nu is dezelfde techniek ook losgelaten op Aziatische olifanten. Wetenschappers van de University of Oxford lieten Aziatische olifanten op Sri Lanka onder meer het geluid van honingbijen horen. En dat geluidsfragmentje miste zijn uitwerking niet. De Aziatische olifanten reageerden gealarmeerd, trokken zich terug en slaakten meer (angst)kreten.
Deze resultaten zijn interessant, omdat ze wellicht ingezet kunnen worden om de Aziatische olifanten te beschermen. In Azië komen veelvuldig conflicten voor tussen mensen en olifanten (die het voorzien hebben op de gewassen van boeren) en vaak moeten de olifanten daarbij het onderspit delven. Door de inzet van bijenkorven kan wellicht voorkomen worden dat de olifanten te dicht bij mensen in de buurt komen en er een conflict ontstaat. Hierdoor zouden heel wat olifantenlevens gespaard kunnen worden. En dat is belangrijk, omdat de Aziatische zo'n tien keer sterker met uitsterven wordt bedreigd dan zijn Afrikaanse tegenhanger.
Op dit moment zijn de eerste experimenten met bijenkorven op Sri Lanka in volle gang. Op tien plaatsen is met behulp van bijenkorven een soort natuurlijke 'omheining' gecreëerd die olifanten op afstand moet houden. Het experiment moet uitwijzen of het aantal conflicten tussen mensen en olifanten zo kan worden teruggedrongen. Als dat zo is, is er sprake van een win-win-win-situatie: de bijen 'bewaken' de gewassen van de boeren, voorkomen conflicten én zorgen met hun honing ook nog eens voor extra inkomen voor de boeren.